Popular Activities in the Area
There is a lot to see / do in the area, and some of the most popular outings with visitors to the Bay of Islands are;
the all day

Cape Reinga tour

; and

a day-pass to

Waitangi Treaty Grounds

a half day

Dolphin cruise to Hole in the Rock, OR

the all day Cream Trip
We are booking Agents for some of the bigger tour operators. This enables us to book tours or cruises for our guests free of charge, and most importantly, are able to provide an Agent discount on some of these.
Dolphin Cruise to Hole in the Rock (half day)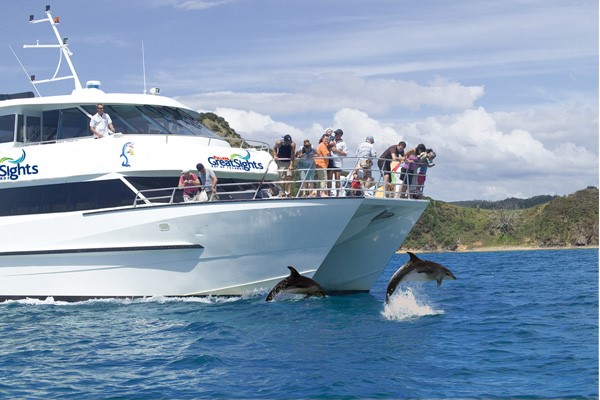 - Dolphin viewing
- Cruise past Islands with informative commentary
- See the Cape Brett lighthouse
- Get up close and pass through (conditions permitting) the Hole in the Rock
Cruise through the sheltered waters of the Bay of Islands on Dolphin Seeker, the purpose built dolphin and whale watching catamaran.
Cruise past many of the 144 islands and take in the sights of the Hole in the Rock and the rich history and scenery that makes up the bay of Islands.
Cream Trip - Day in the Bay (full day)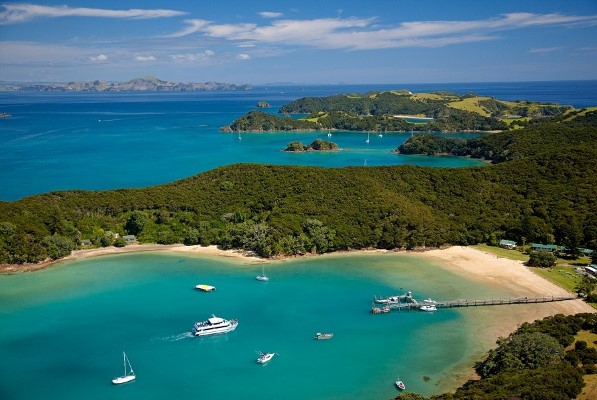 *October - April *
Take part in the Bay of Islands most famous cruise.
The "Cream Trip" began in 1927 and remains a popular cruise with tourists today.
You will have a full Day in the Bay including dolphin encounters and swimming , discovering the Hole in the Rock, delivering mail, boom netting, Island stopover for lunch and learning the history of the Bay of Islands through informative and interactive commentary. Additional fee applies for Swimming with dolphins
Cape Reinga Tour (all day )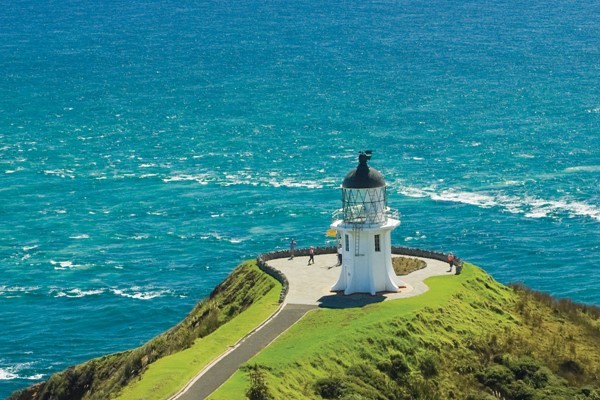 - Sandboard down colossal dunes at Te Paki Stream
- Speed along 90 Mile beach in the coach
- See the Giant Kauri trees
- Visit the Cape Reinga lighthouse at NZ's northernmost tip where the Tasman Sea & Pacific Ocean collide
A visit to New Zealand is not complete without a journey to the very top of the North Island – Cape Reinga (Te Rerenga Wairua).
Uncover the wild beauty of this vast and untouched region, rich in Maori culture and tradition, on a full-day return tour from Paihia.
The 'Club Paihia' pick-up point is at our entrance.
COMBO:

The Double Dip
Cape Reinga + Dolphin Cruise to Hole in the Rock + Russel Passenger ferry
COMBO:
The Beginnings
Cape Reinga
+ 'Cream Trip'

+
Russel Passenger ferry
The 'Club Paihia' pick-up point is at our entrance.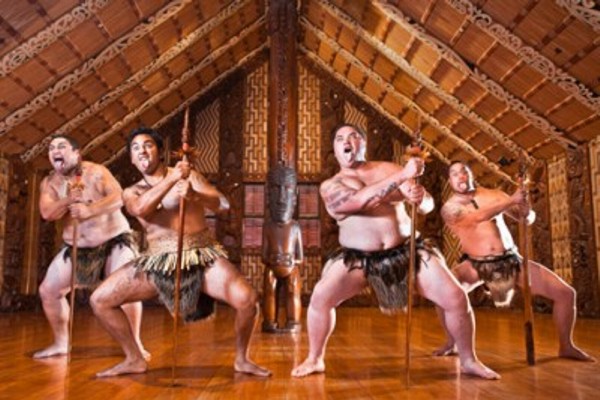 New Zealand's most important historic site and a must see for both NZ and International tourists alike.

A day-pass includes:
- a guided tour
- a Cultural Performance (highly recommended)
- the world's largest ceremonial war canoe;
- the historic Treaty House;
- the carved meeting house Te Whare Runanga;
- explore the Museum & Visitor Centre;
Pop in at the gift shop & have drink or meal at the Whare Waka Cafe.
Maori Hangi and Concert (

6pm – 8.30pm)
1 Oct - 30 Apr: Tue, Thu, Fri & Sun
- includes a Day Pass
- Delicious buffet of meats, stuffing, vegetables, breads, salads and steamed pudding for dessert
- high energy cultural performance

Great Sights Dolphin Eco Experience (half day)
*Oct - April *
Get up close to view and swim with Dolphins in their natural environment in New Zealand's warmest waters.
Travel on the purpose built 35 seat intimate vessel with an experienced passionate crew which will get you as close as possible to these amazing creatures.
Swim is included and wetsuit, snorkel and mask are supplied.
- Dolphin viewing guarantee
- Dolphin swimming
- Lowest viewing decks in the Bay
-Underwater Microphone
- Expert guides and limited passenger numbers
Terms and conditions do apply.
R Tucker Thompson:
Full day/Afternoon sail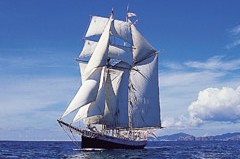 *October - April *
Experience the Bay of Islands the old-fashioned way with a cruise on the R. Tucker Thompson, a traditional gaff-rigged schooner with her own unique history.
On the Full Day Sail, be as active as you like – take the helm, help set the sails, ride the bowsprit and climb the rigging – or simply relax while the crew command this impressive ship as she sails across the Bay. Step ashore and explore a secluded island or take a swim while your barbeque lunch is prepared.
During the Late Afternoon Sail, take in the views and enjoy an antipasto platter with a glass of wine* as the sun starts to set. *Bar charges not included.
Giants & Glow Worms (full day)
Travel to the West Coast where you will meet your local Māori guide who will take you into the ancient forest to see the oldest and most sacred living giant kauri tree in NZ.
Through waiata (song) and interpretation discover why Māori believe that this mighty giant is Tane Mahuta (the Lord of the Forest). Spend some time in the seaside village of Opononi before settling back as we follow the historical trading trail.
End your day at the Kawiti family glow worm caves where the lights of glow worms will surround you amongst amazing stalactites and stalagmites.
Hole in the Rock Experience via Otehei Bay
Travel in comfort on board our black and yellow power cat. We maximize every photo opportunity. Sit back, relax and enjoy the commentary from our local skippers and crew.
Perhaps stay longer at Otehei Bay and experience a taste of island life. Seats are limited on this value experience.
Scenic return cruise to the Hole in the Rock via Otehei Bay

Explore the iconic Hole in the Rock and when conditions permit travel through it!

View Cape Brett Peninsula and the Cape Brett historic lighthouse.

Full commentary from our knowledgeable local skippers.

Reduced capacity - smaller groups, better comfort, superior viewing and photo opportunities
Island Escape Hop on Hop off
Explore nearby Moturua and Roberton Islands
Spend time to experience these amazing islands, their natural beauty, history and with a self-guided walk or simply relax on white sandy beaches. Perhaps snorkel the lagoons of Roberton Island and walk to the top of a historic Pa site with a view over the entire Bay of Islands!
This unique experience allows you to hop on and independently explore one island at a time or simply stay on board and extend your sightseeing as a return cruise to Otehei Bay - the choice is yours! Hop on, hop off, explore…or simply cruise the waters.
You will be supplied with walking maps, suggestions and instructions on where to explore and when to meet your next fast boat to your next island. We recommend a picnic lunch, water bottle, sun screen, hat, comfortable walking shoes, swimmers and towel.
Discover Kerikeri Afternoon tour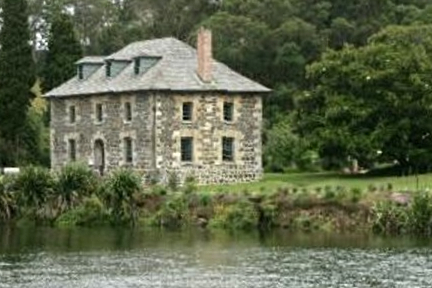 Take a relaxed tour of Kerikeri, a small town rich in history.
In the early 1800s it was home to the Māori chief Hongi Hika, who allowed the early European missionaries (led by Reverend Samuel Marsden) to establish a mission station here.
Explore the grounds, home to New Zealand's oldest standing European buildings: the Stone Store and Kerikeri Mission House (Kemp House).

- Kerikeri Stone Store
- Mission House (Kemp House)
- Makana chocolate factory (including tasting)
- Ake Ake vineyard tour and wine tasting
- Entertaining driver commentary
Popular walks:
Opua Coastal walk;
Hururu Falls Mangrove walk;
Opua Bush Walk
Popular cycling trails:
Twin Coast Cycling Trail;
Waitangi Mountain Bike Park
Russel (15 min by passenger ferry / 40 min drive / 5min drive to Opua car ferry)
Explore this historic town, once known as the 'Hell Hole of the Pacific' ...
-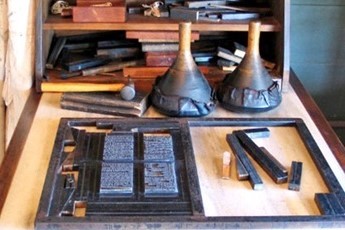 Pompallier Mission is New Zealand's only surviving pioneer printery and tannery, where Catholic missionaries translated religious text into Maori, and hand-printed 40,000 Maori Bibles.
-
built in 1835, Christ Church is New Zealand's oldest existing church.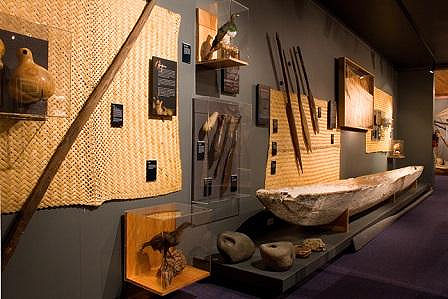 - learn about the history of New Zealand's first national capital at the Russel Museum. Displays include a model of Captain Cook's Endeavour, and whaling and game-fishing artefacts.
- have a drink / meal at historic The Duke of Marlborough - holder of NZ's first Liquor license since 1827.